Why is USB-C Better? See What Makes It a Gadget Hunter's Must Have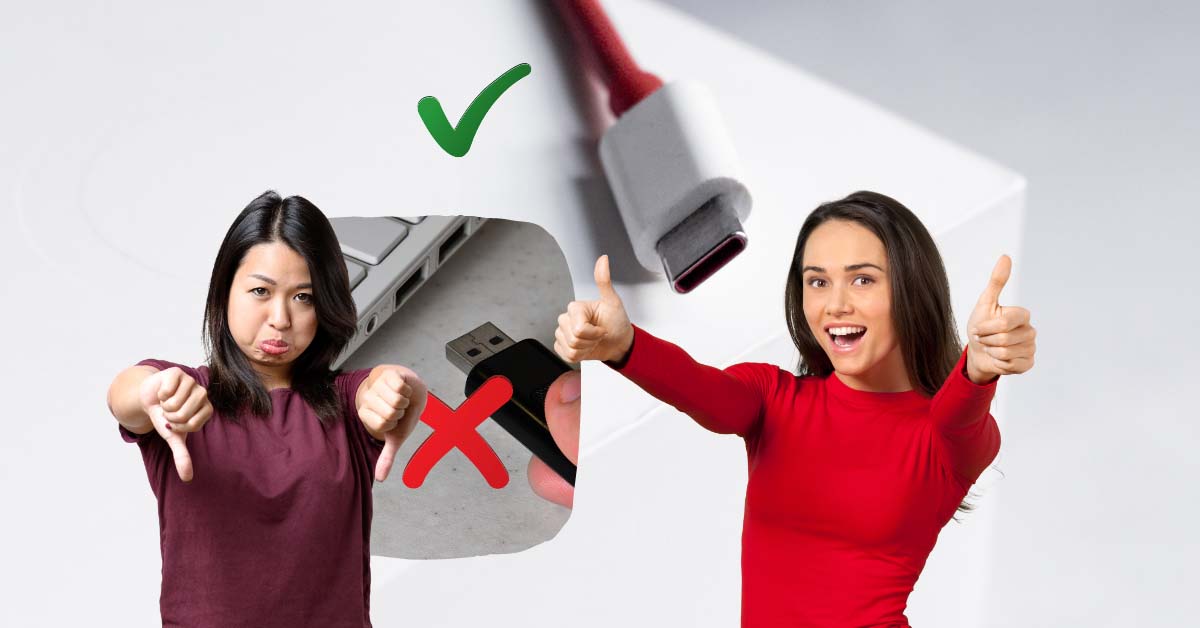 Whether we like it or not, we are merging more and more with technology each day. Gadgets are a vital part of our daily lives, and connectors are literally what fuels most of what we do since they charge all of our gadgets. Let's face it: with a dead phone or tablet, we simply aren't able to function as well as we'd like.
The rise of the innovative USB-C connector (formerly USB type C) has been both controversial and a life changer.
It's life-changing for those who've experienced it because they find it's easier to handle. After all, it plugs in perfectly no matter the orientation, and the tech just works a lot better.
We'll discuss the aforementioned controversy later on. For now, let's jump in! 
Difference Between USB-C and USB-A
There are a lot of things that make the USB-C connector stand out when compared against the older USB-A technology. Keep reading to see how you can take advantage of the top USB-C benefits.
USB-C vs. USB-A: Reversibility 🔄
The USB-C connector and its port are a match made in heaven. A connection is made no matter which direction you orient the connector. Gone are the days of trying to connect an accessory, but then having to flip the connector to insert it correctly — often to discover you had it right the first time.
You know exactly what we're talking about:
USB-C vs. USB-A: Power ⚡️
Next, USB-C is packed with charging power and can give you as much as 100 Watts, strong enough to charge your most power hungry devices — and lightning fast, too.
In fact, a USB-C connection can charge devices as much as 20 times faster when compared to basic USB-A. We're all about efficiency these days, and USB-C has stepped in to meet that demand.
Charging speed is one of the main reasons USB-C is now such a sought-after feature when it comes to tech gadgets. And if a device comes with this feature, brands and manufacturers are smart to make a point of highlighting it front and center in their marketing.
USB-C vs. USB-A: Data Transfer 💾
A USB-C port equipped with Thunderbolt 3 can theoretically support data speeds up to 40Gbps. This is four times faster than USB 3.1, and over 3,000 times faster than the original USB 1 rated at 12Mbps.
Due to this incredible breakthrough, USB-C makes it possible to output video directly to TVs, monitors, and projectors. This enables 4K UHD monitors like the Philips Brilliance to input video AND charge your laptop using one single cable.
We earn a commission on recommended products.
A Universal Standard
The European Union sees great potential with USB-C, and not just for the advantages in terms of personal use. They believe it could be a path to help lower electronic waste by leaps and bounds.
The decision to move towards having a common connector was prompted by data showing that the EU produces 51,000 metric tons of waste with the use of a variety of chargers.
With the statistics showing that the-C works better and is more energy-efficient than other connectors, the EU believes that they're offering a more convenient and eco-friendly way of charging everyone's devices by slowly migrating their citizens to only using the USB-C connector.
A Rough Start: Apple's USB-C Controversy 
Apple made bold moves when they shocked consumers in 2015 with a new MacBook. Their laptop boasted new features and performance bumps, but most of the talk surrounding the release had to do with what was missing.
For the 2015 MacBook, Apple ditched their own MagSafe charging port in favor of a USB-C port. Furthermore, all other ports were eliminated, with the exception of a 3.5mm headphone jack.
A Divisive Decision
Previous laptops designed by Apple were housed with a variety of ports, including multiple USB-A ports, Ethernet ports, HDMI ports, and SD card readers. With the 2015 MacBook, users would need an adapter in order to use any non-USB-C accessory:
This left a lot of people confused and skeptical due to the fact that their old accessories wouldn't be compatible with MacBooks going forward. They were forced to make the choice between buying adapters or purchasing new cables.
Of course, this was a valid reaction. However, looking forward to now, it's probably for the better that Apple pushed the market in this direction. 
Conclusion
All in all, USB-C will prevail over all other connectors. In some places, it might soon be codified into law. However, it won't be because large corporations or government leaders forced it upon us, but instead due to the fact that it's extremely convenient.
We're always out with the old and in with new, and if I can fully charge my phone in half the time I'm used to then count me in. You can also count on USB-C sticking around in the foreseeable future, so you should probably stock up on some new tech!
While we're talking power… ⚡️🔌⚡️🔌