We Rounded Up The Best E-Bikes For 2022 & Beyond
E-bikes have revolutionized the way we ride for commuting and leisure over the last few years. Today's electric bikes are constantly evolving with advanced designs, premium features, and more powerful motors. When shopping for an E-bike, some of the biggest things to take into consideration are your budget and lifestyle. Next, you will need to consider availability.
The E-bike industry is experiencing a major boom, and the most state-of-the-art models are often not available for immediate shipping to your door.
Fortunately, this is no reason to fret. When you preorder the latest and greatest, wait times are typically no more than 2-3 months. For perspective, this is quicker than the current wait for a new Tesla Model S or Tesla Model X.
Of course, many of the E-bikes we recommend are in stock and shipping now. However, if you've found the e-bike that's perfect for your needs, budget, and lifestyle, and it's only available for preorder — we highly recommend going with that one. The wait is quick and extremely well worth it, and you'll save more time in the long term.
For this article, we've rounded up the best E-bikes for 2021 and beyond. Each has something unique to offer, and all are on the cutting edge. The models are chosen based on their performance, quality, cool factor, availability, and price. This list will continue to expand as the industry evolves, so check back often for updates!
Before we jump in, we should stress that any E-bike journey should begin with researching the regulations and laws in your local area around where you can ride and safely park.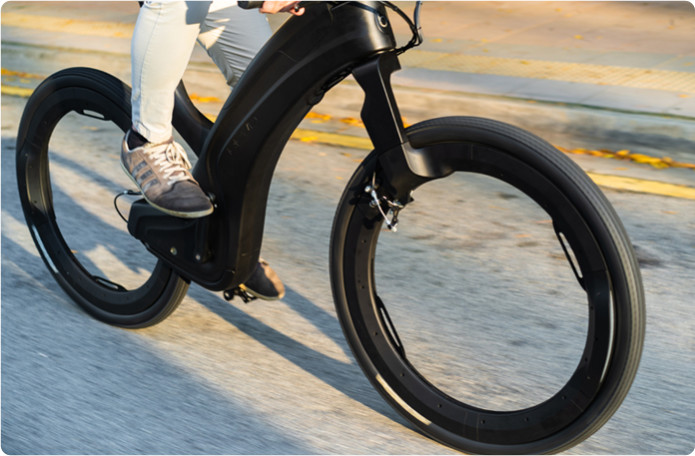 Best E-bike for Style, Security & Safety – Reevo
We won't lie: this is one sexy bike. 🥵
On first glance, you just know that Reevo is something special, different from all the rest. A hubless e-drive eliminates the need for spokes, resulting in a minimalistic look that is both eye-watering and unique. This makes it the perfect transportation solution for young professionals and commuters.
For city commuters, security and safety are especially important. Fortunately, Reevo has you covered with an easy and elegant one-touch fingerprint sensor that locks/unlocks the bike in an instant. For additional security, integrated GPS with motion detection allows you to set the geofencing radius and know where your Reevo is anytime, anywhere. A sturdy integrated automatic lock housed within the frame further protects your bike from thieves (and their bolt cutters!).
Plus, when it comes to performance, Reevo delivers. The 750W motor drives a top speed of 25mph, while you command its movement with either the bike's inspired handle bar throttle or its seamless built-in pedal assist feature.
Best Fat Tire E-Bikes – Juiced Bikes
Some of us like adventure but don't like to feel every bump in the road. Juiced Bikes offer a great mix of speed and riding range.
Fat tire E-bikes are built tough and can take you almost anywhere whether that's through rocks, mud, puddles or snow. These electric bikes will give you an easy time because they're flexible enough to handle whatever terrain you're riding on.
For instance, take the RipCurrent S Step-Through. With a 28mph top speed, this go-anywhere, do-anything E-bike features a unique open frame that allows you to quickly and conveniently mount or dismount with ease. Its massive 52V 19.2Ah battery offers up to 70 miles of range, and with a 9-Speed Shimano Cassette transmission, the RipCurrent S Step-Through is one of the most powerful and versatile electric bikes on the market.
Fat tires are made of extra-elastic rubber with low pressure and great shock and vibration absorbency. This gives you more comfort and ease when traveling. Even if you're a novice, bigger tires will provide you with a sense of more power and stability, which will help you feel more secure on rough terrains.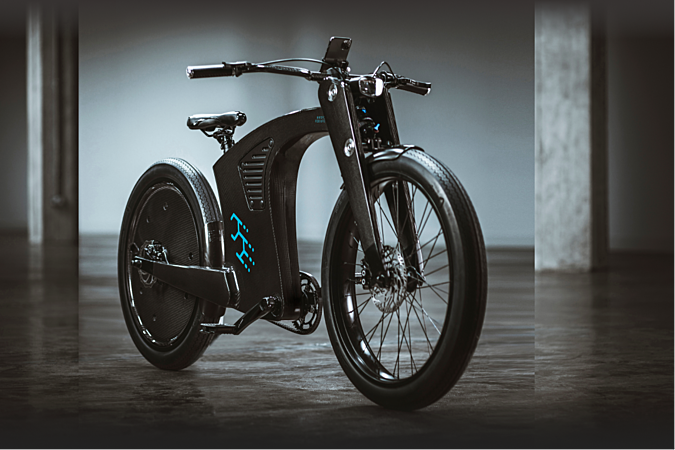 Best Long Range Performance E-bike – CrownCruiser
CrownCruiser touts itself as the world's most stylish electric bike, but where it really shines is in its performance (though it is quite beautiful). CrownCruiser boasts a 31mph top speed, meaning it's the fastest on our list. Its carbon fiber frame is both light and durable, with carbon fiber being 40% lighter than aluminum. The extended range battery provides up to 100 miles per charge, making this one of the longest-range E-bikes you can buy right now.
Colors
Check out the wicked color options on CrownCruiser!
Best E-bike for Customization – Biktrix
If you like to customize your ride, this is the e-bike for you. Biktrix offers you four series of bikes that allows you to tailor your e-bike to your needs.
Our Top E-bike pick from Biktrix: the Juggernaut Series
Whether you're commuting on the street or ripping up hills and off road, Biktrix has a Juggernaut E-bike for you. With the Juggernaut series, wheels can be swapped between fat bike or plus size mountain bike wheels. With mid-drive motors and multiple options, the Biktrix Juggernaut series offers powerful, comfortable electric bikes that can be customized just for you.
Conclusion
There are many things to take into account when buying an E-bike. Everyone's needs are unique, which is why we've highlighted the areas where the best electric bikes perform best. For some people, range is the most important. For others, it's security — how will it fare against thieves in a busy city environment? And for thrill seekers, speed and agility might be the biggest consideration. If it's on our list, we're confident you'll be happy with any E-bike you choose. However, buying an E-bike can be a major investment, so we made this list to match you with your dream bike.
E-Bikes Are Officially In: