Scorpio™ Home Pizza Oven: Neapolitan Pizza On Demand
Whether you're a novice or a pro, you can make the pie of your dreams with Scorpio™. Why wait for pizza to be delivered when you can satisfy your cravings for quality pizza in your own kitchen? Unleash your creativity and create hundreds of flavor profiles – your imagination is the limit!
The Scorpio™ Pizza Oven
Scorpio™ is the stainless-steel pizza oven that makes high-quality, Neapolitan pizza, something that you can easily achieve on your own, at home. The oven features an automatic rotating pizza stone, making cooking perfect pizzas virtually fool-proof. Unlike with traditional pizza ovens, you won't have to manually rotate your pies or worry about certain areas being over or undercooked, thanks to this innovation. 
This game-changing feature makes it easy to get the perfect pizza, every time. 
Two Ways to Cook
With Scorpio™'s dual fuel choices, pizza making is more accessible than ever before. Not everyone has access to a wood fire, and some people may prefer propane gas for their ovens. Scorpio™ allows you to choose which method you prefer, or even which is most convenient at the time. 
The Scorpio™ rocket stove design allows you to load 10-inch long splints from the side, instead of putting them on top, which makes the process less time-consuming. If you choose to use propane instead, you'll get a high-output propane burner with a twin jet and 23,000 BTU's. The gas output is also adjustable, so you can customize the flame to your liking.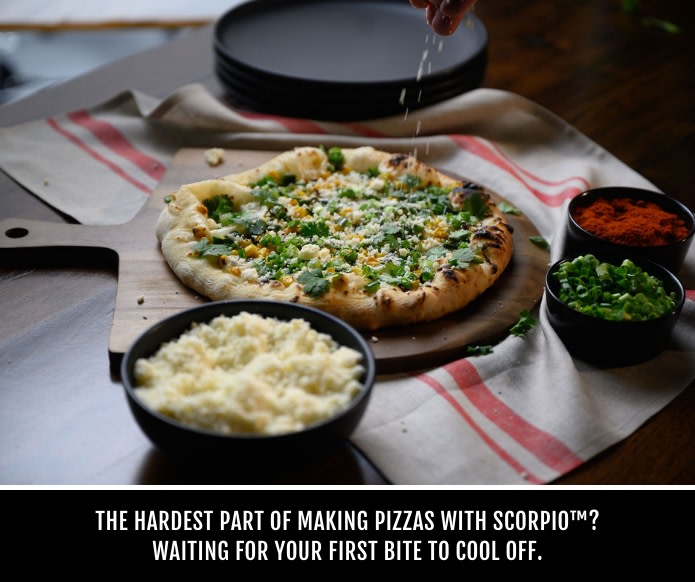 Pizza On-the-Go
Scorpio™ is foldable and lightweight, making it a great choice for outdoor excursions or a quick picnic at home. It is small enough to bring on outings or to friend's homes with little effort, and is lightweight enough to carry around easily. Wow your friends and relatives with mouth-watering pizzas using Scorpio™ – inside or outside of your home.
They say money can't buy happiness, but it can buy a fool-proof pizza oven…which is kind of the same thing. Check out their Indiegogo campaign now and prepare to fill your space with the fragrance of an Italian kitchen!